McNeil Maverick Marching Band
Talk

1
The McNeil Maverick Marching Band is a high-school Band. McNeil High School is part of RRISD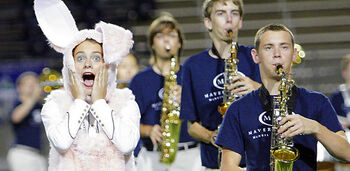 The Directors
Edit
Travis Ancelet
Travis Ancelet, Director of Bands at McNeil High School, currently directs the Wind Ensemble, Marching Band and the
Jazz Band. He holds a masters degree in wind conducting from the University of Texas at Austin. He studied conducting with Dr. Tom Lee, currently the director of bands at UCLA, and was a teaching assistant with the Longhorn Band. Mr. Ancelet received his under graduate degree in music education from Nicholls State University in Thibodaux, Louisiana. He also spent two summers touring with the Garfield Cadets Drum and Bugle Corps. In 1980, he marched with the corps and in 1982, he assisted with the horn line.
Prior to his appointment at McNeil High School, Mr. Ancelet taught in the Austin Independent School District for seventeen years. He last taught at LBJ High School where he was the assistant director and director of the jazz bands for twelve years. Some of the other responsibilities Mr. Ancelet took on during his tenure at LBJ were, TMEA Region 18 Jazz Division Chair, director of the Austin Youth Jazz Orchestra and organizer for the AISD All-City Jazz Band.
From 1988 to 1991, Mr. Ancelet was the director at Pearce Middle School, where he was selected as co-teacher of the year in 1991. He started his career as the assistant director at Anderson High School.
Mr. Ancelet was born and raised in south Louisiana, where a majority of his family still resides.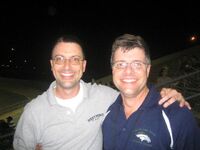 Jason Dimiceli
Mr. Dimiceli is in his third year as Associate Director of Bands at McNeil. His responsibilities including teaching the marching band and conducting the Symphonic Band. He also assists with the Wind Ensemble and Concert Band, and he teaches Music Theory. Prior to arriving at McNeil Mr. Dimiceli taught at San Marcos HS and Westfield HS (Houston).
Mr. Dimiceli graduated with a degree in Music Studies from The University of Texas in 2002. He is a trumpet specialist, having studied with the great Raymond Crisara and Dr. Joel Treybig. Mr. Dimiceli also studied score study and conducting with Dr. Kevin Sedatole. He is proud to have graduated from Eisenhower High School in Houston where his directors included Brian Sedatole, Greg Goodman, and John Hinojosa.
Some of Mr. Dimiceli's fondest playing memories are from his time in the UT Symphony Band, his two years (1996-97) in the Longhorn Band and in his three years (1997-99) in The Cavaliers Drum and Bugle Corps.
Away from school Mr. Dimiceli loves to spend time with his beautiful wife, Jennifer, and his lovely daughter, Emily. He loves college football (and has had season tickets to UT football games since 1998) and Major League Baseball. He also enjoys golfing, cooking, and reading as much as he can.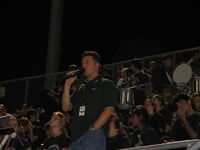 Ian Smith
Ian Smith received his Bachelors of Music degree from LSU where he was principal chair of the Wind Ensemble, Symphony Orchestra, and Drumline Captian/staff arranger for the marching band. He also performed in the New Music Ensemble, Percussion Ensemble, Ethnic Percussion Ensemble, and played trumpet in the Basketball Band.
He has been at McNeil High School since the fall of 2001 when he was hired to be a percussion instructor/private lesson teacher. In the middle of his second year an opportunity arose which allowed him to become the assistant director. In his time at McNeil, the percussion section has won many awards including several high percussion trophies at marching and concert band contests.
Mr. Smith stays busy in the summer by teaching across the state for Percussion One / Yamaha, and writing percussion parts for schools in Texas and Louisiana. He has music published through Drop6 Media. Mr. Smith is the LSU beatboxing champion.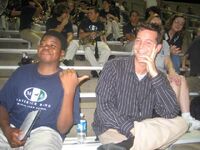 Chris McCarthy (Colorguard Instructor)
Recent Show History
Edit
2014-2015 Fall show: "To The Summit"
2013 - 2014
Fall Show: "The Garden of the Mind"

Winterguard Show: Varsity "The First Step" JV "Black Violin"
Fall Show: "Touch"

Winterguard Show: Varsity "Esther Williams: Bathing Beauty" JV " Feel Again"
Fall Show: "Now I Lay Me"

Winterguard Show: "Interpretation #2 in Blue"
Fall Show: "If I Only Had"

Winterguard Show: "In the Shadow of Your Heart"
Fall Show: "The Passion Within"

Winterguard Show: "Blackbird"
2008 - 2009 Fall Show: "Made in America" Winterguard Show: "Feel the Burn"
2007 - 2008
Fall Show: "Somniphobia"

Winterguard Show: "Interpretation #1 in E Flat"
Fall Show: "Saturday Morning Overtures"

Winterguard Show: "Sugar Plum Scary"
Fall Show: "On The Town"

Winterguard Show: "Kiss"
Fall Show, "Live From Austin"

Winterguard Show: "Scat Last"
Fall Show: "Latin Fire"

Winterguard Show: "Little Wing"
Fall Show: "Pacific Tides"
Fall Show: "Pyramids"
2007 - 2008 Achievements
Edit
2007 Central Texas Drumline Invitational
TBA
2007 Capitol City Marching Contest
TBA
2007 Regional BOA Marching Contest
TBA
2007 Super Regional BOA Marching Contest - If Qualified
TBA
2007 Grand National BOA Marching Contest - If Qualified
TBA
2007 Region 26 Marching Contest
TBA
2007 Region 26 Region Band Auditions
TBA
2008 Region 26 Solo and Ensemble Contest
TBA
2008 State Solo and Ensemble Contest
TBA
2008 Region 26 Concert Band UIL Competion
Wind Ensemble - TBA
Symphonic Band - TBA
Concert Band - TBA
Fall 2007 Marching Band Show
Edit
The McNeil Maverick Band's 2007 Fall Show is entitled "Somniphobia." A mother puts her child to bed, reading her stories and singing a favorite lullaby. As the child starts to nod off she begins to imagine a sequence of fearful events, keeping her scared and awake. When she finally relaxes and gets comfortable she nods off again, only to be frightened by experiencing her most horrifying fears. Things spiral downward until she is absolutely incapable of falling asleep.
Music Arrangers – Daniel Montoya and Ian Smith.
Visual Designer – Pete Weber
2007 McNeil Drum Majors: D.J. Nutter, Sydney Holman, and Lindsay Chandler
Band Boosters
Edit
The McNeil Band Booster Association is a non-profit organization recognized by the Round Rock I.S.D. and includes McNeil High School, Cedar Valley Middle School, and Deerpark Middle School.
All parents of band students in grades 6-12 are automatically members. The association is organized to provide support for the band programs and activities at these schools. Funds raised during the year benefit all three schools. Our main source of income comes from the concession stands operated during football season. We operate stands for the Middle School games, freshman, junior varsity, and varsity games.
'07 - '08 Current Band Booster Officers:
PRESIDENT…............TBA
VICE PRESIDENT….......TBA
SECRETARY…............TBA
TREASURER…............TBA
CONCESSIONAIRE….......TBA
CONCESSIONAIRE….......TBA
External
Edit
Watch the McNeil Drumline on Youtube